Turf Reinforcement Mesh
Material: HDPE
Hole size:7x7mm,15x15mm,18x18mm,24x24mm
Weight:425g/m2,460g/m2,560g/m2,700g/m2,400g/m2
Heavy duty turf reinforcement mesh can be used for grass protection by protection and reinforcement of grass areas.
Grass protection plastic mesh protects the grass from wear and offers essential ground reinforcement.
Features and Applications:
Manufactured from high density polyethylene, the plastic turf reinforcement mesh incorporates a blowing agent which gives the mesh a rougher surface thus creating a less slippery surface. This kind of plastic mesh is used in grassed car parks, overflow car parks, golf buggy paths, light aircraft taxiways, grass paths, grass car parks, emergency access routes, equestrian surface reinforcement, grass verges protection & caravan parks.
Turf reinforcement mesh for grass protection is in green color, UV stabilized, rot resistant, chemically inert and therefore provides a long term reinforcement solution. Our ground reinforcement mesh offers much higher reinforcement to grass than our turf reinforcement mesh, and is far more economical and cost effective to install.
Turf reinforcement mesh is ideal for :
• Overflow car-parks
• Pedestrian grassed areas
• Small aircraft taxi-ways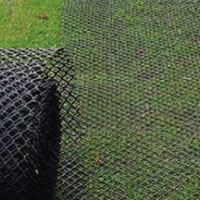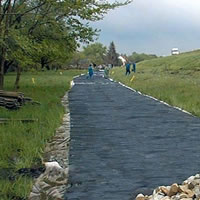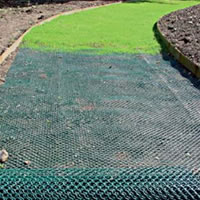 | | | | | |
| --- | --- | --- | --- | --- |
| roll size | colour | mesh aperture | weight | product no. |
| 2mx30m | black | 25mmx29mm | 550g/m2 | FRT10001 |
| 2mx30m | green | 25mmx29mm | 550g/m2 | FRT10002 |
| 2mx30m | black | 22mmx27mm | 660g/m2 | FRT10003 |
| 2mx30m | green | 22mmx27mm | 660g/m2 | FRT10004 |